Call 770-432-9800
New & Featured Products
Asahi/America in partnership with Bänninger of Germany, introduces Asahitec™ PP-RCT piping systems to the North American market.
PP-RCT is the latest advancement in polypropylene polymers and has a wide range of benefits for commercial plumbing systems. It has a more complex crystalline structure that provides greater pressure capabilities at higher temperatures than conventional PP materials. When used in a piping system, these enhanced mechanical properties make it suitable for higher temperature applications such as boiler and hot water systems. They also create lighter and thinner piping, while maintaining the necessary system pressure ratings. PP-RCT can also be extruded in a multi-layer pipe with fiber core middle layer. This core reduces the impact of thermal expansion on the piping system.
Ideal Applications Include:
Potable Water, HVAC – Hot Water and Chilled Water, Food and Beverage Grade Water, Hydronics, Sports Stadiums and Arenas, Commercial Buildings, Residential Buildings, Institutional Buildings, Schools and Universities, Government Buildings, Hospitals, Hotels and Apartments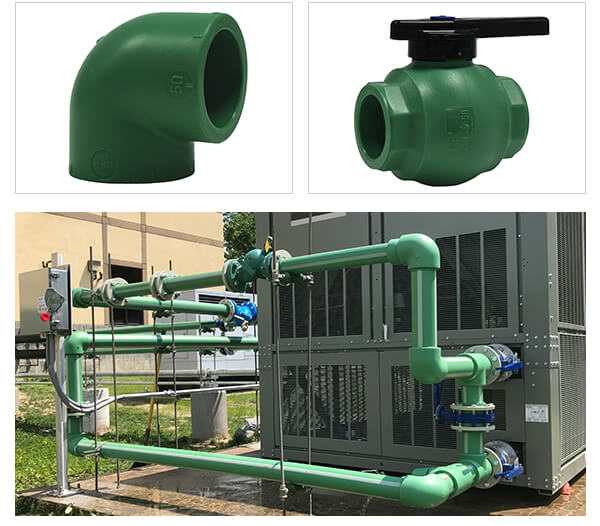 ---
Air-Pro® Compressed Air Piping System
Air-Pro® is the only PE piping system approved for use and warranted by the manufacturer for compressed air applications. Air-Pro® meets CAL-OSHA requirements for compressed air.
Air-Pro's® specially formulated PE resins are resistant to both synthetic and mineral compressor oils.
Available in sizes ½" to 12" with socket, butt and electrofusion fittings in a variety of styles including tees, reducing tees, 90s and 45s
Fast, low-cost installations
Operating pressures from 150 - 230psi
Constructed from specially engineered PE100/PE100RC uniform pipe and fitting materials which is extremely ductile, lightweight and corrosion resistant. The PE100 is high density polyethylene with a minimum cell classification of: PE445574E
Chemically resistant to compressor synthetic oils and mineral oils that traditionally attack glued and metal systems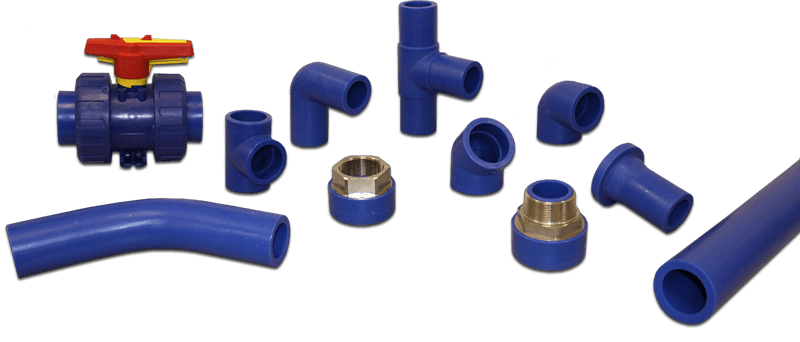 ---
Type-21a SST Flow Control Valve
Introducing the Type-21a Seat Support Technology (SST) flow control ball valve which offers all of the robust elements of the Type-21 ball valve and the ability to precisely control flow.
---
Since 1950, Micromold Products has manufactured a broad line of corrosion resistant plastic products for the process industries. Micromold specializes in standard and custom products made from PTFE, PFA, & FEP and such other high performance plastics as Kynar, polypropylene, PEEK, nylon, Kel-F, and UHMW polyethylene.